What is a FedEx audit?
A FedEx audit offers an in-depth view of your FedEx invoices to reveal mistakes. FedEx invoices are loaded with service and billing errors. Anywhere from 5-6% of your carrier invoices are inaccurate and may be refundable based on FedEx's service guarantee.
FedEx invoice audits are essential to identify and correct service failures, overcharges, and late shipments. You can receive refunds for carrier mistakes and save money every week.
In this article, we'll review the importance of FedEx audits for the success of your business and discuss the different types of audits that can save your team time and money and reduce your overall shipping cost.
Why You Need to Audit FedEx Invoices
FedEx offers refunds to shippers for shipping errors, including:
Late deliveries
Overcharges, duplicate charges, and pricing mistakes
Incorrect address correction surcharges & other invalid surcharge assessments
While one late package may seem unimportant, several delayed shipments and incorrect billings add up over time. If you find an issue with a FedEx delivery, you must make a refund request to the carrier. If FedEx approves the request, your shipping cost will be refunded to your FedEx account.
Monitoring shipping issues and submitting refund requests on time will help you reduce your shipping expenses. In addition, you'll be empowered to understand if FedEx or any other carrier is right for your business.
Ways to Audit
Below, we'll review the three types of parcel audits you can use to review shipping invoices for billing and other inaccuracies.
Manual
Manual parcel auditing is a hands-on approach where employees review every carrier invoice line-by-line to spot billing mistakes and cost reduction opportunities.
Most shippers avoid manual auditing because it is labor- and time-intensive. Moreover, mistakes can be made during manual shipping audits, such as missed refunds. Similarly, poor judgment could impact internal audit results related to what you are paying and the service quality you are receiving.
Parcel Audit Software
Parcel invoice audit software can analyze large amounts of shipping data to detect errors more accurately than paper-based audits. It automatically analyzes every shipping transaction and delivers a comprehensive report. Managers can quickly identify issues such as incorrect charges and service failures via a user-friendly dashboard and secure eligible refunds or cost reductions.
Parcel audit software helps shippers reduce their back-office expenses by automating manual tasks. It also offers complete visibility into shipping operations and fees, enabling shippers to calculate total landed costs accurately.
Parcel Audit Service
A parcel audit service pulls your shipping invoice data directly from your shipping carriers. A combination of audit specialists and systems conduct comprehensive parcel and freight audits to ensure you are correctly billed and serviced.
A parcel audit service gives you access to its proprietary logistics software and valuable insights from shipping experts with years of experience. For example, an audit might identify that you can avoid paying a specific surcharge by optimizing your package dimensions.
Enlisting a service to handle the nitty-gritty of parcel audits will allow your employees to focus on core business processes that improve your company's bottom line.
Are you worried that you are leaving money on the table? Use Sifted's automated parcel audit service to track potential refunds for you!
Other Ways to Optimize Shipping Spend
As a shipper, you can use alternative methods to parcel audit to reduce shipping costs and improve operations. These include contract analysis and negotiation and reporting and analytics.
Contract Analysis and Negotiation
Contract analysis and audits are critical to the success of your small parcel shipping operations. It helps you ensure that the carrier adheres to the terms (e.g. service levels, shipping discounts, etc.) negotiated in the contract agreement.
Sifted's Carrier Management Suite enables you to compare carrier rates across service types, package count, transit times, and average cost per pound. This way, you can determine how much room is available to maneuver when negotiating with a new or existing carrier.
Before starting carrier contract negotiations:
Review your contract terms, rates, liabilities, and insurance clauses.
Check your pricing agreements to spot any cost reduction opportunities.
Benchmark carriers against their competition to identify ways to reduce spend.
Check out our guide on best contract negotiation practices for more strategy tips.
Reporting and Analytics
A comprehensive supply chain audit comprises sub-audits such as parcel, inventory, and contract audits. For this reason, a mere FedEx audit or audit-only service doesn't give the complete picture of cost savings and shipping operations.
In other words, shippers need a complete logistics solution that leverages real-time tracking and data analysis to maximize profits and optimize shipping spend. As an example, you should be able to get insights about shipping rates, optimal warehouse locations, and contract optimization using the same shipping data.
Sifted Logistics Intelligence is a software platform that collects and utilizes more data than a regular parcel audit. Using this information, it generates actionable reports to help you optimize your distribution network, choose the best service type, model package dimensions, and better prepare for peak season and GRI rate hikes.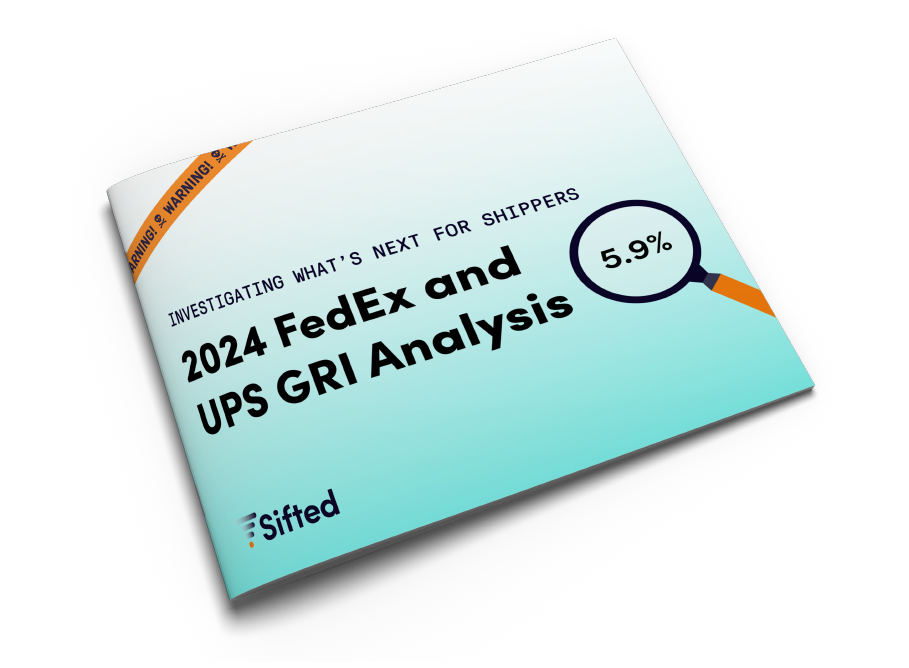 2024 FedEx & UPS GRI Analysis
In addition, Sifted's data analysis features help shippers drill into their shipping data to learn about the right carrier, mode, and service for their parcel shipping. It also tells you the exact amount you pay for shipping and the service quality you receive. As a result, you can make informed decisions that help improve your bottom line.
Learn how to cash in on your missed refunds. Try a demo of Sifted.