The Critical Need for Cheap, Sustainable Packaging Solutions
We know the COVID-19 pandemic accelerated eCommerce growth in 2020. What we didn't know, is that at the same time, it sparked a rush for plastic. The demand for food packaging, poly mailers, bubble wrap, and corrugated plastic boxes for online shopping has surged. And since most of these single-use plastic packaging cannot be recycled, they end up in landfills.
Informed and concerned consumers want businesses to offer bio-based, biodegradable and reusable packaging options such as kraft paper, home compostable packaging, and green packaging materials like bagasse paper (sugarcane-based fiber pulp) and corn starch-based packaging.
Although the benefits of eco-friendly packaging far outweigh the initial cost, the cost factor is the biggest concern for companies, especially small businesses. According to a Raconteur study, 43% of businesses consider cost as one of the main factors stopping them from transitioning to sustainable packaging.
In this article, we'll correct the cost misconception by sharing some of the best ways businesses can reduce shipping costs using eco-friendly packaging solutions, as well as trending sustainable packaging solutions.
How to Reduce Shipping Costs by Adopting to Sustainable Packaging Solutions
A 2021 research by Oceana found that Amazon's plastic packaging waste increased from 465 million pounds in 2019 to 599 million pounds in 2020. As a result, up to 23.5 million pounds of Amazon's plastic packaging entered the world's oceans and waterways in the same year.
Amazon's net sales have since increased from $280.52 billion in 2019 to $513.98 billion in 2022. Whatever its environmental impact in 2019, it was likely higher in 2022.
Here are some of the best sustainability packaging practices to help you optimize your shipping costs.
Do away with universal plastic packaging
The idea of transitioning to a cost-effective plastic alternative might sound unfeasible at first, especially if the bulk of your packaging options are of plastic origin. However, sustainable packaging starts with gradually reducing and eventually eliminating plastic packaging. Let's take the example of the food and beverage industry.
Mineral water brand Open Water opted for BPA-free, aluminum packaging instead of plastic bottles because recycling aluminum cans is more climate-neutral and efficient compared to plastic bottles.
In fact, recycling aluminum cans consumes 95% less energy than manufacturing a beverage can from its virgin source. And unlike plastic, aluminum packaging is infinitely recyclable.
Similarly, aluminum packaging offers high resistance to damage and weighs less than heavy plastic cartons. This way, transport becomes relatively easy and requires less fuel.
Other low-cost, eco-friendly packaging innovations you can explore for your business include cardboard and air pillows made from recycled materials, biodegradable packaging peanuts, and plant-based pouches.
Are you worried about your business' growing plastic footprint on the environment? Check out how Sifted can help you reduce greenhouse gas emissions through network optimization.
Make the most of your packaging
Usually, the bigger and/or heavier a shipment is, the higher is the shipping cost. However, the three major carriers, UPS, USPS, and FedEx, also use dimensional weight pricing to calculate shipping fees. As a result, shipping heavier parcels with smaller dimensions becomes cheaper than shipping lighter ones that are bigger in size.
Here are two more ways to reduce the size of your packaging and cut shipping costs:
Shipping in bulk: It is often cheaper to ship multiple items in a single package as you can enjoy volume discounts on product packaging materials. Plus, it will lower your shipping costs as you won't need to ship as often. Partnering with a third-party logistics (3PL) provider can help you save money on bulk shipping supplies.
Use flexible packaging: Compared to rigid packaging materials like glass or plastic, flexible packaging materials like paper, tubes, and bags can be more space efficient in trucks.
Look for eco-friendly packaging to increase recyclability
Here are some recyclable packaging materials that can help you achieve your packaging sustainability initiatives:
Compostable mailers can be manufactured using less energy and raw materials. And even if they end up in landfills, they degrade relatively quickly, depending on the environmental conditions.
You can use corrugated bubble wraps composed of recycled cardboard to secure your products. Corrugated bubble wraps are both compostable and recyclable.
Unlike composite packaging material, mono-material flexible packaging is made of multiple layers of just one kind of raw material. By reducing the number of raw materials used, you can increase the recyclability of your packaging, offset your carbon emissions and reduce packaging/production costs.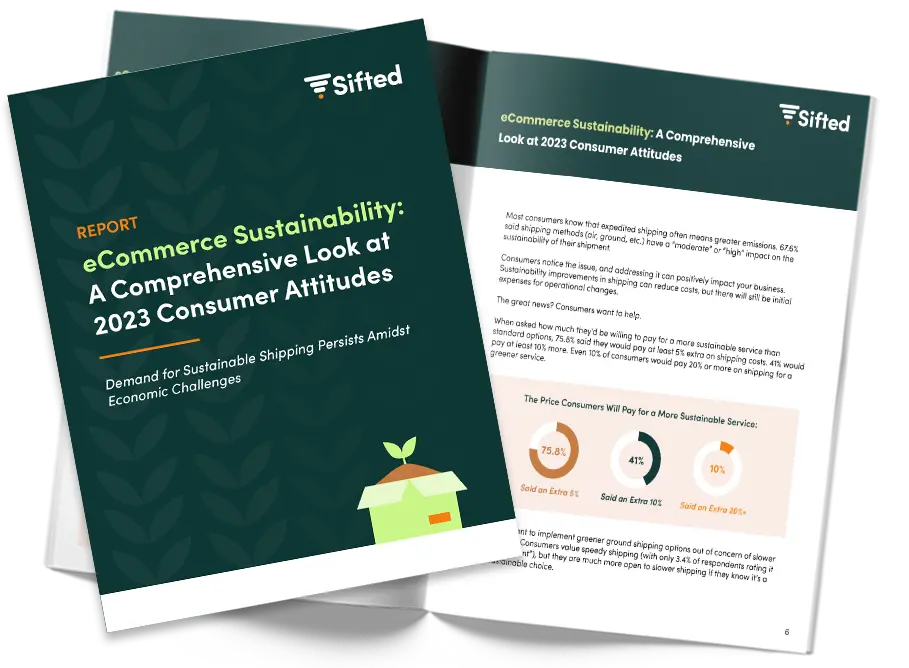 Report: 2023 eCommerce Sustainability 
Choose lightweight packaging
You can reduce your shipping costs by switching to lighter packaging alternatives.
While there are plenty of packaging materials on the market that can keep your products secure in a carton, some options are lighter than others. For example, packaging fillers like air columns and air pillows are lightweight, provide efficient cushioning, and add almost no weight to the shipment.
Similarly, you can reduce stretch wrap waste by decreasing the pallet load of your shipments. Through new packaging innovations, there is a wide range of recycled plastic materials that are both lightweight and sturdy. Moreover, optimize the amount of elastic film you use for each pallet. Overestimating the amount of plastic wrap increases the weight of the shipment and, ultimately, your business's carbon emissions and shipping costs.
Many packaging companies have responded by offering eco-friendly packaging materials to meet the needs of eco-friendly businesses. If you haven't already, check out our post on businesses innovating sustainable packaging to find out the right eco-friendly packaging for your business.
See the Projected Cost-Savings Yourself with Sifted
With the surge in eco-aware brands and proactive governments, sustainable packaging solutions like bioplastics are quickly gaining popularity and replacing polymers rapidly.
Contrary to popular belief, sustainable packaging is not expensive and can actually help you save on shipping costs and improve your bottom line. In addition, eco-friendly shipping enables you to show your brand's commitment to environmental sustainability, which is a green light signal to many consumers!
If you're having a difficult time seeing how sustainable packaging can save you money, look no further than Sifted Logistics Intelligence. The software gives shippers all the tools and insights they need to transition to a sustainable shipping model.
Users can model optimal package sizes to eliminate material waste, simulate the optimal distribution center location to reduce average transit distances, and more.
Ready to optimize your shipping operations for a smaller carbon footprint? Get a demo of Sifted!