What is considered sustainable packaging?
Sustainable packaging uses packaging composed of materials that have a lower environmental impact than non-sustainable alternatives like single-use plastics.
Many people wrongly assume that sustainable packaging only deals with using recyclable or biodegradable materials. It also involves assessing every stage of the product life cycle from sourcing to customer and disposal to reduce packaging waste.
There are many types of sustainable packaging options on the market, including bioplastics, biodegradable packing peanuts, compostable mailers, recycled packing paper, and sustainable packaging materials like corn starch, bagasse paper (sugarcane-based fiber pulp), and glass.
The packaging materials you use for your products will depend on your budget, how you store and transport them, and your branding requirements.
In this article, we'll go over a selection of brands, both national and international, that have a high commitment to environmental sustainability in their product packaging.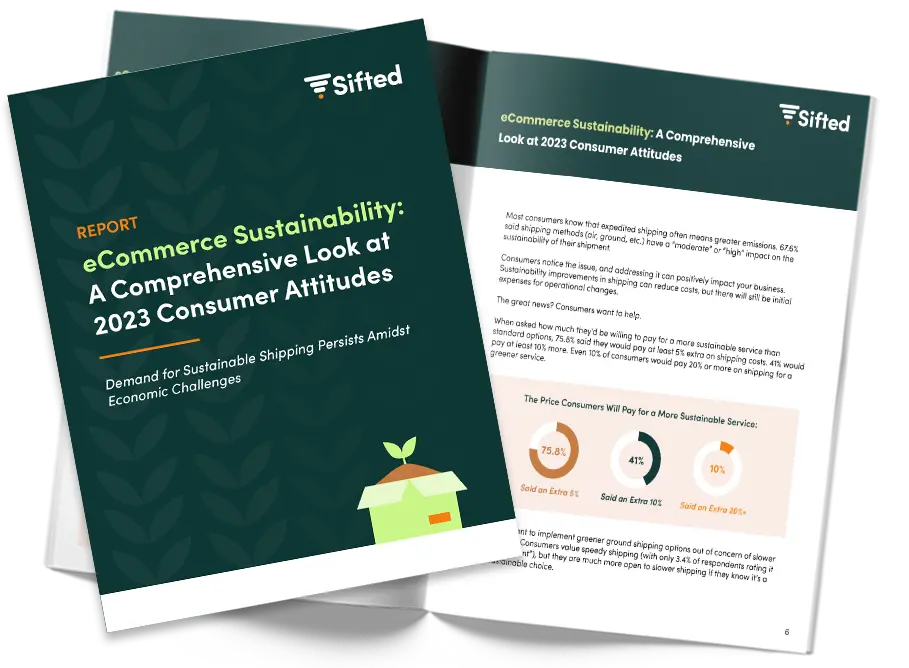 Report: 2023 eCommerce Sustainability 
What's Fueling Growth in the Eco-friendly Packaging Industry
The eCommerce boom in the last decade produced strong growth for the global packaging industry, with cheap single-use plastics being a primary driver of this growth. However, sustainability concerns around single-use plastic waste in recent years combined with eco-friendly packaging initiatives are driving changes in product packaging.
According to the 2021 Global Buying Green Report, 67% (about two-thirds) of consumers consider recyclable packaging an important part of their purchase decision.
The increased consumer awareness about the impact of plastic waste on the environment has forced product manufacturers and sellers to rethink their packaging options. Now, they are taking bold steps to improve the sustainability of their packaging and shift towards using recyclable and reusable packaging.
In addition to preserving the environment, major industries, including cosmetics, pharmaceuticals, automobiles, and electronics, are turning to eco-friendly packaging to reduce costs, cut waste, and project their brand as earth-friendly.
Many packaging companies have responded by expanding their offering to include eco-friendly packaging materials, packaging supplies, and equipment to meet the needs of environmentally-aware businesses.
Are you concerned about your company's growing carbon footprint on the environment? Check out how Sifted can help you reduce fuel emissions by identifying shorter delivery routes.
Here are 6 companies you can use as a resource to move toward sustainable product packaging:
1. Sustainable packaging products at Noissue
Noissue is an international company founded with the clear purpose of accessible sustainable packaging solutions to businesses worldwide. Shippers are given the opportunity to create their own package designs that fit their brand (and express their creativity).
The range of available eco-friendly packaging options is broad, so they break it down by compostable products, recyclable products, and reusable products.
Compostable packaging is generally made from a blend of renewable raw materials and has the ability to break down within 90-180 days. Recyclable packaging is created from plastic bottles and plastic packaging that is recycled and processed for repurposing into a new product. Reusable packaging, as it sounds, is packaging available for reuse multiple times after its initial purpose for a variety of different functions.
In addition to many food packaging alternatives, some of the popular products available include:
2. Reusable packaging at Returnity
Returnity is focused on reducing packaging waste by creating a sustainable model of reusable packaging. Not only is it helpful for the environment, but it is also cost-effective for businesses.
For shippers, Returnity offers great alternatives for non-recyclable materials:
Polymailer bags
Customizable boxes with chic designs that are collapsible for easier storage
Garment bags
Reversible mailers that transform into a custom duffel bag
3. Post-consumer cardboard boxes at Paper Mart
Paper Mart was born as California Towel Supply back in 1921 and has greatly expanded to become one of the largest packaging supply companies available online. The company ships globally and has over 26,000 items for sale. Their products prove helpful for business owners, manufacturers, crafters, and most importantly, shippers.
There is a full collection of eco-friendly packaging on the Paper Mart website, sold at affordable prices and encouraged to buy in bulk. Some of these products include:
4. Biodegradable packaging peanuts at Uline
Uline is one of North America's top shipping supply distributors focused on providing shipping, packaging, and industrial supplies to meet consumer needs.
Among many other materials that Uline sells for shippers, they offer biodegradable peanuts that decompose in water. By creating a product that is biodegradable, it greatly reduces waste in landfills and has a strong, positive impact on the environment as a whole.
5. Renewable resources at Rocket Industrial
Rocket Industrial provides meaningful alternatives to packaging waste through renewable resources. It was founded with a drive to tackle the issue of excessive waste, which has only increased as the eCommerce industry continues to grow (and online shopping is becoming more of a norm).
Their sustainable packaging options are vast, including:
6. Reusable packaging at RePack
RePack was founded by a team in Finland who built a sustainable design agency to combat the issue of eCommerce package waste. With paper and cardboard as the primary packaging waste materials, they provided a solution: reusable packages made of durable and recycled polypropylene.
The packages they sell for shippers are intended to be folded and returned to their facilities, which makes them usable at least 20x more than a single-use package.
Shippers can purchase RePack bags internationally in three different, adjustable sizes.
Sifted can help you reduce your carbon footprint
Customer purchase behaviors and attitudes around sustainability are getting manufacturers, retailers, and eCommerce to implement eco-friendly packaging in their product offerings. Delivering what customers expect in your packaging can help you improve brand loyalty, boost sales, and reduce your carbon footprint.
An effective way to lower your environmental impact is to optimize your distribution network for lower transit distances, and lower emissions.
Sifted Logistics Intelligence gives eCommerce businesses the tools and insights they need to transition to a sustainable business model. Users can simulate the optimal distribution center location to reduce average transit distances, model optimal package sizes to eliminate material waste, and much more.
Ready to optimize your supply chain for a smaller carbon footprint? Get a demo of Sifted!
Caleb Nelson
Last mile delivery expert and the "James Webb of Supply Chain," Caleb is a true logistics intelligence entrepreneur. As co-founder, Caleb is a core force behind the strategic and operational initiatives accelerating Sifted's growth. With over 17 years of helping shippers find clarity in their data at companies like Unishippers, Caleb is an expert at helping businesses simplify parcel complexities and secure supply chain success.