What is the UPS large package surcharge?
UPS is actively trying to eliminate large, oversized shipments that are difficult to handle or process. They impose heavy fees called large package surcharges to cover the additional costs, time, and labor involved in storing and moving these packages.
Note that there are other UPS surcharges as well that affect your bottom line. These include:
Oversize package surcharge
Address correction surcharge
Additional handling surcharge
Residential surcharge
Peak surcharge
Delivery area surcharge
Fuel surcharge
Incorrect weight surcharge
Shipping carriers like UPS, USPS, and FedEx announce an increase in shipping charges and surcharges every year called the General Rate Increase (GRI). Check out our guide on how the 2023 GRI impacts your shipping costs and how to get better carrier rates.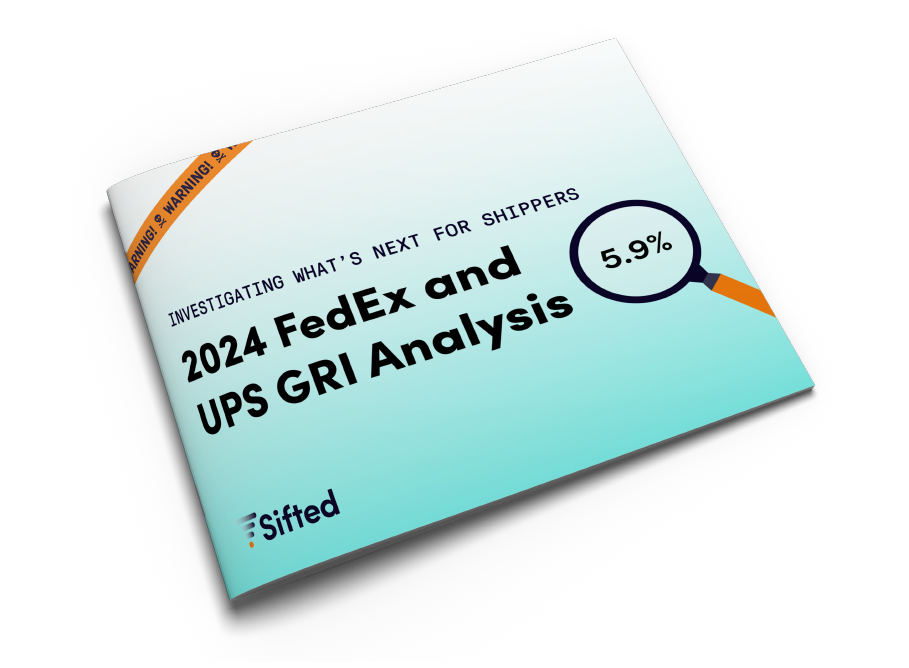 2024 UPS & FedEx GRI Analysis
This guide contains everything you need to know about the UPS large package surcharge and how to proactively avoid it.
How much is the UPS large package surcharge in 2023?
Effective December 27, 2022, the UPS large package surcharge rates for domestic and international packages are below. (Large Package covers parcels where length plus girth isgreater than 130 inches or if length greater than 96 inches)
Large Package Surcharge
Zone 2
Zone 3-4
Zone 5+
Rate for Commercial Delivery
2022
$110
$120
$140
2023
$135
$145
$165
% Increase
18.52%
17.24%
15.15%
Rate for Residential Delivery
2022
$135
$145
$165
2023
$160
$170
$190
% Increase
15.63%
14.71%
13.16%
Rate for International Shipments
2022
$145
$145
$145
2023
$170
$170
$170
% Increase
14.71%
14.71%
14.71%
View the UPS Rate & Service Guide for more information on UPS carrier surcharges.
What does the UPS large package surcharge apply to?
For domestic shipments, UPS considers a package to be large when its longest side exceeds 96 inches or its combined length and girth [(2 x width) + (2 x height)] exceeds 130 inches and is less than 165 inches.
Large packages are also subjected to a minimum of 90 pounds minimum billable weight, except for UPS Ground shipments.
Note that UPS doesn't assess an additional handling charge when a large package surcharge is applied.
In addition, UPS assesses an Over Maximum Limits surcharge on shipments that are sent through its small package delivery network. If the package is above the below limitations, the Over Maximum Limits surcharge applies:
More than 150 pounds
Greater than 165 inches in length and girth combined
Larger than 108 inches in length
UPS applies additional handling fees, special handling surcharge, and over maximum length surcharge on packages that don't meet its weight, shape, and size limits. Also known as non-conveyable shipments or ugly freight, these shipments can't be processed on traditional conveyance systems and require additional care and manual processes.
Tips to Lower Large Package Surcharge Fees
Here are some of the most common ways shippers minimize the impact of UPS large package surcharges:
Optimize Packaging
Packaging matters when it comes to the size of your shipment. Use appropriate packaging based on the size and contents of your package. An effective way to target lower rates is to use poly mailers instead of cardboard boxes for items like pillows and apparel. Poly mailer bags are compact and occupy less space.
Know Your Box Dimensions
UPS applies a surcharge for any shipments that exceed its weight and size guidelines and require special handling. Here are some measurements to help you avoid such charges:
Packages can weigh up to 150 pounds.
Packages should be at most 48 inches on their longest side.
Packages should be at most 30 inches on their second-longest side.
Items should be fully enclosed in a corrugated shipping container.
In addition, shipping carriers like UPS and FedEx use the dimensional weight pricing (based on the height, length, and width) of a package to calculate your shipping rates and compare it with the actual weight. Carriers use the greater of the actual weight or dimensional weight to calculate your shipping charges.
Read our resource article on reducing shipping costs by reducing dimensional weight.
A good practice is to calculate the dimensional and actual weight of the package, especially if you sell large and lightweight items. Check out our dimensional weight calculator to automatically calculate the billable weight and shipping cost of your packages.
Negotiate a Lower Fee with UPS
The 2023 UPS large package surcharge will cost you in the range of $135 to $170. If you are a high-volume shipper, you can negotiate lower rates with your carrier and get a discount.
Sifted's contract modeling helps you to model contract terms with different carriers, including their service levels and special service options, to project how it would affect your overall costs.
Gain Visibility into How UPS Surcharges Impact Your Bottom Line
Large package surcharges can significantly increase the cost of each package going out the door. Shippers can take specific measures to avoid paying these hefty surcharges, like optimizing your packaging for DIM weight pricing and renegotiating carrier contracts.
Sifted Logistics Intelligence gives you complete visibility into your supply chain spend. It shows how rate increases affect your business and offers ways to optimize costs using AI-powered modeling and simulation.
Protect your business from the ever-changing shipping surcharges. Get a demo with Sifted today!