'Sustainable' and 'eco-friendly' aren't just buzzwords but a way of life. Consumers are becoming increasingly aware of the impact that their choices have on the environment, and businesses are taking note. Especially in the parcel shipping space.
As the demand for online shopping and home deliveries continues to increase, so too does the need for eco-friendly shipping practices. Fortunately, there are companies out there that are rising to the challenge.
In this blog, we'll look at some of the top players in the parcel shipping industry; 7 companies committed to environmental sustainability. From using the latest biodegradable packaging to implementing zero-emissions vehicles, these companies are leading the way in making the shipping industry a more sustainable one.
Let's dive in and see what they're doing to make a difference!
Mushroom Packaging by Ecovative
Now you can use packaging material to grow your garden! No, seriously.
Ecovative Design LLC is a world-praised mycelium technology company known for creating a compostable packaging material called Mushroom® Packaging.
To handle the problem of styrofoam and plastic waste, Ecovative grows mycelium together with agricultural matter to produce MycoComposite™ technology. Mushroom® Packaging is 100% compostable at home and in marine environments at the end of use you can quite literally throw this packaging in your garden and walk away. This mushroom-based packaging offers shippers an eco-friendly alternative to traditional packaging, paving the way toward a greener future.
Recently, big retailer IKEA committed to biodegradable/mushroom packaging to turn waste their into resources, develop reverse material flows for their waste materials, and ensure key parts of their range are easily recycled.
Mushroom packaging uses a fraction of the energy required to make plastic, produces minimal carbon emissions, and naturally breaks down into the Earth with no pollution. While IKEA may refer to it as a "small" step, its efforts towards reducing plastic production and waste while safeguarding both human and animal health could prove to be significant.
Recycle EVERYTHING with TerraCycle
TerraCycle® is a company that's on a mission to help businesses reduce their carbon footprint and recycle ALL their waste—even if it's "unrecyclable!" Founded on the belief that landfills are overcrowded and polluting our planet, TerraCycle® dedicates its efforts to making it easy for companies to do something about it.
TerraCycle® differs from your typical recycling program; they focus on developing solutions for non-recyclable waste streams, using collaboration to create the world's first recycling and reuse programs! By partnering with brands, retailers, and other stakeholders, TerraCycle can recycle hard-to-recycle materials that are not profitable to reclaim otherwise, making it possible to reduce the global waste crisis and help protect the planet for future generations.
And it doesn't stop there. TerraCycle's reuse program, Loop, is a global reverse supply chain that collects used packaging from businesses and retailers, enabling deposit return, sorting and storing, and finally returning hygienically cleaned packaging to manufacturers for refill.
TerraCycle® is making it easier than ever for shippers to be more sustainable and conscious about their waste.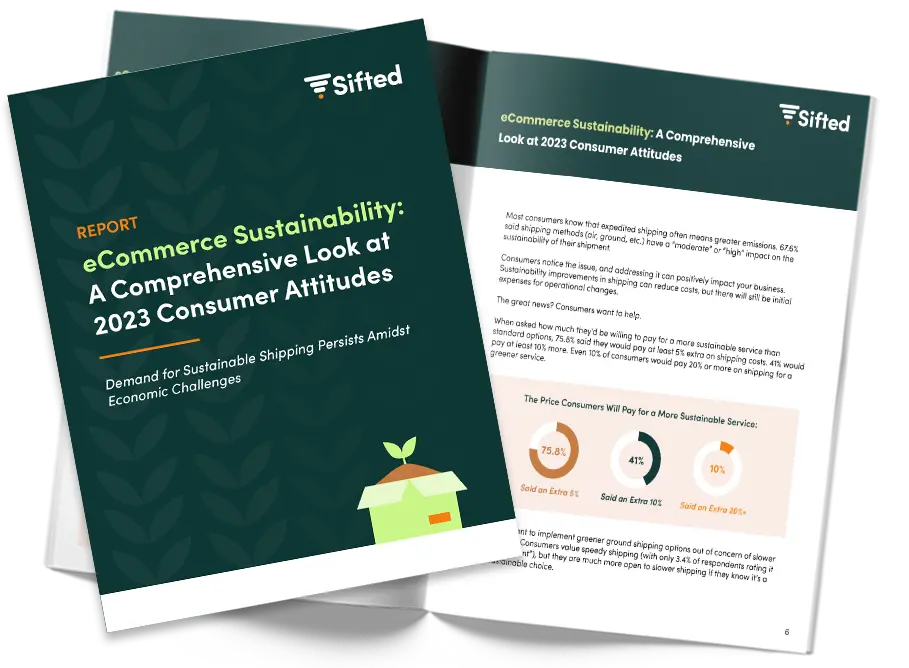 Report: 2023 eCommerce Sustainability 
Create A Future Worth Delivering with Nuro
Say goodbye to delayed and unreliable last-mile deliveries. The future has arrived, and it's rolling in with robotic precision thanks to Nuro's autonomous delivery system.
Nuro is revolutionizing the delivery industry with its self-driving robotic delivery cars. Founded by two Stanford graduates with PhDs in robotics, Nuro's automated delivery system has dramatically impacted the transportation industry since its launch in 2016.
Nuro's vehicles navigate urban areas autonomously and can travel through off-road terrains, ensuring prompt delivery times and accommodating temperature-controlled items. The entirely electric cars reduce the environmental impact from last-mile delivery, and customers can track their deliveries through texts or a mobile interface. Nuro has partnered with prominent retailers such as Walmart, Kroger, and Uber Eats, providing an efficient last-mile delivery experience. Nuro strives to improve daily life for millions of people, delivering safer streets, a healthier planet, and more equitable access to goods.
Join Roadie, The Uber of Parcel Shipping
Roadie is the next best thing in last mile delivery. With a vision to improve delivery, Roadie is disrupting the logistics industry through a crowdsourced model that taps into a hidden resource of friends and neighbors already on the road. Founded in 2014, Roadie works with businesses of all sizes to offer same-day and local next-day delivery in passenger vehicles across the U.S. With the largest local same-day delivery footprint in the nation; Roadie reaches over 20,000 zip codes with the help of more than 200,000 drivers nationwide.
Dedicated to transforming excess capacity into a public utility that can move things faster and more sustainably than ever before, Roadie is the top innovator in crowdsourcing delivery. Today, with 250 million passenger vehicles hitting the road, they're putting wasted cargo space to good use with the power to deliver just about anything, anywhere.
Break the Cycle of Single-Use Packaging with LimeLoop
You know that pile of broken down boxes by the trash can from this week's online shopping spree? We're all guilty. And that's where LimeLoops comes in.
LimeLoop is an eco-friendly shipping company that offers reusable packaging and eco-friendly monitoring technology for eCommerce businesses. When consumers receive their product in a LimeLoop reusable package, they can return it to the retailer so it can be used again for the next customer rather than ending up in the landfill. The LimeLoop platform provides retailers with a powerful platform to effectively understand and communicate with their customers while providing the insights necessary to inform ESG and supply chain decisions. By eliminating reliance on single-use packaging, LimeLoop helps shippers reduce waste, save resources, and be more eco-friendly.
Shrink Your Carbon Footprint with MetaPack
Offer the eco-friendly shipping choices your customers want!
Metapack is a carbon-fighting eCommerce delivery management technology provider helping shippers reduce their carbon footprint while providing convenient delivery options for customers. With over 350 carriers, 5,000 delivery services, and 350,000 collection points accessible through a single integration, Metapack makes it effortless to connect with eco-friendly carrier partners. The platform helps retailers find the right 'green' carrier partner to reduce their CO2 footprint in different markets.
By displaying eco-friendly delivery choices on their websites, such as electric vehicles, bicycle, and on-foot delivery, retailers can drive conversions and improve their brand reputation. Metapack also streamlines the final mile delivery process by consolidating orders and allocating them to carriers based on geography, reducing unnecessary delivery miles and shipping costs. With Metapack's delivery management platform, retailers and brands worldwide can strengthen their delivery proposition, generate customer loyalty, and website conversion, ensuring every customer has the best delivery experience.
Stabilize Your Supply Chain with Sifted Logistics Intelligence
A leader in parcel shipping data, Sifted utilizes over 20 billion data points ($4B in annual parcel spend) to help shippers make sense of their unique and complex data. More than "actionable insights," Sifted Logistic Intelligence helps shippers use the data they already have to ship smarter and more sustainability. With Logistics Intelligence, businesses gain immediate access to their shipping health and tools to re-rate and model improvements like package changes, distribution network openings/closings/moves, best-in-class rates, carrier mixes, and so much more to make sustainable and profitable decisions.
Using Sifted, shippers can filter through their costs down to the zone and service level to achieve goals faster and find service levels that minimize costs (and in some cases, emissions) without sacrificing delivery speed. No spreadsheets required. They can do it with smart analytic and modeling software specifically built for shipping data.
Smarter Shipping Starts with Sustainable Strategies
Bottom Line: Keeping your supply chain sustainable starts by holding your business accountable.
Accountability means calculating your data, being transparent with it, and employing it to make smarter eco-friendly decisions that reduce your carbon footprint. It's what your customers want, what your supply chain desperately needs, and it aids the planet. Triple win.
From using reusable to biodegradable packaging solutions and implementing zero-emissions vehicles, these companies are leading the charge in environmental responsibility. By supporting these companies and making conscious choices as consumers, we can all play a part in creating a greener future for the next generation.
The #1 Logistics Intelligence Software