What is Compostable Packaging?
Plastic packaging materials like parcels, stickers, and polythene bags account for 42% of all plastic produced worldwide.
Unfortunately, it has a very short usability lifetime (typically around 6 months or less). This is where businesses can take advantage of alternative solutions, like compostable packaging.
In fact, compostable packaging has the potential to extend the end-of-life performance of packaging materials.
Compostable packaging is a form of packaging made from various natural materials such as sugar cane, corn starch, potato starch, and wood pulp.
It is a popular sustainable packaging option because microorganisms can break down compostable materials into compost, a valuable fertilizer that enriches plants and soil. This helps reduce a large portion of plastic pollution by driving it away from waterways and landfills.
With home composting, the decomposition of organic waste into compost may take up to 180 days, but industrial composting facilities can decrease this time to 3 months.
In this article, we'll cover everything you need to know about compostable packaging.
What Kind of Materials Can Be Composted?
Traditional packaging options can be extremely wasteful and harm ecosystems. For that reason, it's important to invest in compostable packaging options that are right for your product and logistics.
Fortunately, several packaging solutions are compostable. These include:
Cardboard and paper: Cardboard made from organic materials can be composted by simply putting it into a compost pile. Only add clean cardboard to compost bins because cardboard treated with chemicals can contaminate the compost and decrease its value.
A compostable cardboard box from EcoEnclose costs between $0.62 and $3.17, depending on the box dimensions.
| Dimensions | Price |
| --- | --- |
| 4" x 4" x 4" | $0.62 |
| 8" x 8" x 4" | $1.89 |
| 12" x 10" x 5" | $3.17 |
Bubble wrap: Plant-based bubble wrap rolls are more eco-friendly than the traditional PE plastic ones. Compostable bubble wraps are made up of cornstarch polylactic acid polymers (PLA), and they can be completely degraded within 90 to 180 days.
A 50cm x 50cm roll compostable bubble wrap roll costs around $49.
Cornstarch: Cornstarch packaging materials are a viable alternative to styrofoam and plastics. They are developed from bio-based plastics, like PLA, that can be turned into nutrient-rich biomass through composting.
A compostable cornstarch bag costs between $0.10 to $0.40.
In addition, other eco-friendly packaging options are available for parcel shipping, such as Kraft paper rolls, postal tubes, tissue paper, and compostable mailers and envelopes.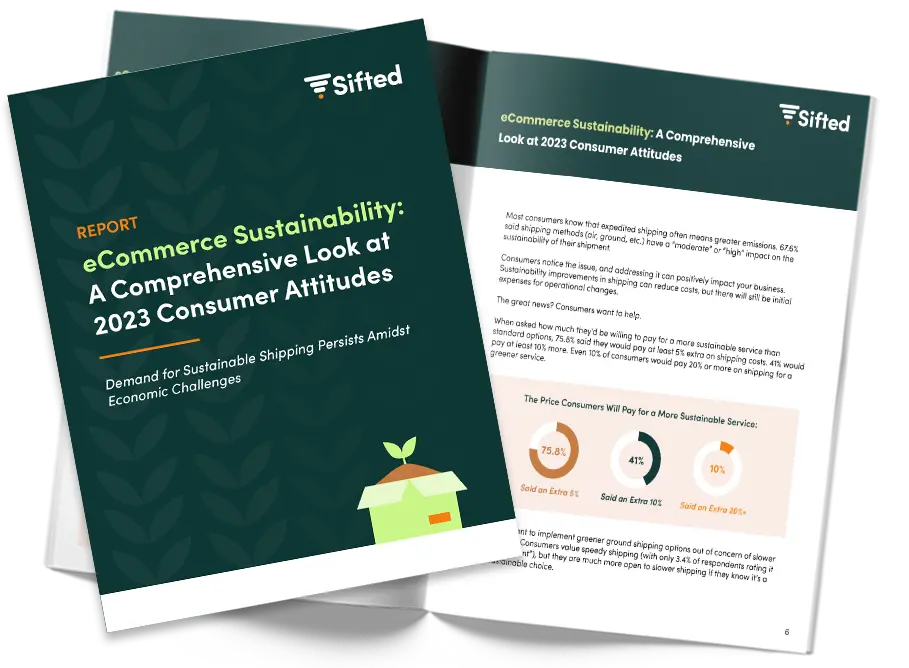 Report: 2023 eCommerce Sustainability 
Compostable vs. Biodegradable
Both compostable and biodegradable packaging break down into elements, but they differ in what they contribute to the environment. Natural microbes turn compostable packaging into valuable fertilizer that improves soil quality. In contrast, when biodegradable packaging is broken down into smaller pieces, the resulting by-products may contaminate soil if they are not processed correctly.
Compostable products generally decompose more quickly than biodegradable products. For example, wood-based compostable packaging takes between 45 to 60 days to decompose, whereas compostable plastics take up to 180 days. On the other hand, biodegradable packaging takes between 3 to 6 months to fully decompose.
Compostable and biodegradable packaging are beneficial in terms of reducing pollution, however, compostable packaging also helps preserve the ecosystem.
The Pros and Cons of Compostable Packaging
There are many benefits to switching to compostable packaging and a few disadvantages. The main outcomes for businesses include:
Pros
Improved brand image: Compostable packaging is an excellent way to demonstrate to your eco-conscious customers your commitment to the environment. It can also build customer trust, helping your business retain and attract more customers.
Water resistance: Compostable bags are water resistant, making them a great packaging option as they protect items from moisture.
Reduced carbon footprint: Compostable packaging production requires less energy than traditional materials like plastics.
* Reduce plastic waste in landfills: Organic waste in landfills produces methane, a potent greenhouse gas. Composting significantly reduces methane emissions that affect climate change.
Positive effects on soil and ecosystems: Composting reduces the need for chemical fertilizers, improving soil quality and promoting higher yields of agricultural crops.
Cons
Cross-contamination concerns: Compost contamination happens when non-compostable items like glass, plastics, and textiles get mixed into a compost pile. Consumers may miss non-compostables such as produce stickers during the sifting process. While contaminants are not usually dangerous, they may decrease the compost quality.
Cost: Depending on your chosen method, a 'compost kit' can cost anywhere from $50 to $550. In addition, there are labor and maintenance costs associated with processing composts and preventing animal infiltration.
When to Choose Compostable Packaging
Compostable packaging has captured the imagination of environmentally-minded customers, and businesses are taking notice. While shippers are moving to implement sustainable practices in eCommerce shipping, the eco-friendly aspects of these packaging materials can be more complicated than they seem.
The benefits of compostable packaging can only be attained if they are disposed of and composted properly as instructed by the manufacturer. For this reason, you should choose compostable packaging only if you can adequately educate your customers about how to compost them at home or send them to an industrial composting facility.
Outside of that, if you want to contribute to protecting the environment, it makes more sense to invest in an alternative method to composting.
Are you concerned about your company's growing carbon footprint? Check out how Sifted can help you reduce fuel emissions by identifying shorter delivery routes.
Alternatives to Compostable Packaging
Let's look at some eco-friendly alternatives to compostable packaging:
Re-using: Plastic waste makes up 80% of all ocean pollution. Reusable packaging materials like wood packaging not only reduce the effect of your operations on the environment but also directly reduces costs.
Biodegradable options: Similar to compostable materials, biodegradable packaging has the potential to reduce waste. The latter is a more suitable option for the food industry as biodegradable food packaging completely and naturally degrades.
Using other materials for packaging (newspaper, etc.): Paper is one of the world's most biodegradable and recyclable packaging materials. According to the American Forest & Paper Association, the paper recycling rate in the United States was 68% in 2021. You can save money on packing paper by using old newspapers. While newspaper is thinner than packing paper, you can double-up for fragile items.
Package size optimization to reduce material usage/waste: You can reduce waste by using the right amount of packaging materials. Similarly, reducing excessive air space can reduce the carbon footprint of the shipping process.
Get Projections for Switching to Sustainable Packaging with Sifted
Traditional packaging options can be extremely wasteful and harm ecosystems. So, it's important to invest in sustainable packaging options that are right for your product and logistics.
Sifted Logistics Intelligence gives eCommerce shippers the tools and insights they need to optimize packaging. You can model optimal package sizes to eliminate material waste, simulate the optimal distribution center location to reduce average transit distances, and more.
Ready to optimize your shipping operations for a lower carbon footprint? Get a demo of Sifted!