Parcel shipping has endured more change in the last three years than in the last three decades combined. With consumers forced to stay home, eCommerce spiked and left a "parcelpocalypse" of supply chain disruptions, carrier capacity issues, and shipping delays.
With the shift in purchases from in-store to online, consumers have become more aware of the environmental impact of eCommerce and their role in promoting sustainable shipping. To better understand their level of eco-consciousness with respect to shipping emissions, packaging materials, and sustainable delivery options, we conducted a survey in 2021 among 500 consumers. Here's what we found:
Consumer awareness regarding the environmental impact of parcel shipping was quite high.
Most considered sustainable practices a crucial factor when making online purchase decisions.
Most consumers desired an "eco-friendly shipping" option at checkout. Moreover, most were even willing to pay more and wait longer for a more sustainable alternative.
But now, a pendulum is swinging. eCommerce growth and parcel volumes are 'normalizing' to pre-pandemic levels. And with economic uncertainty, consumers are tightening their spending.
What does this mean for sustainable shipping? How has inflation affected consumers' prioritization of sustainability vs. price? Do consumers remain committed to sustainability even in the face of rising prices throughout the supply chain?
Sifted set out to answer these questions with a refreshed survey to 500 new consumers in March 2023.
The results are clear: inflation has made consumers more price-sensitive than in 2021, resulting in a decline in their prioritization of sustainability. Despite this, sustainability remains among the top priorities for consumers.
Here's our proof.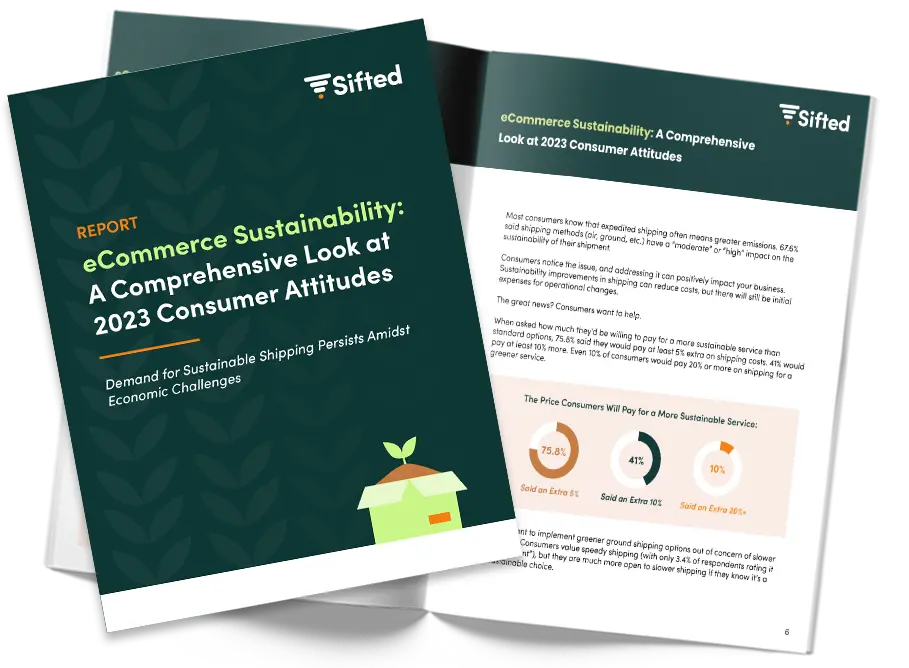 Report: 2023 eCommerce Sustainability 
The Demand for Sustainability Remains Strong, Even in the Face of Pressure for Lower Prices
Economic tensions have consumers taking a hard look at their spending, and their behaviors reflect that. We asked consumers to rate how important factors are when purchasing online. Here's what we found compared to 2021.
Not Important
Somewhat Important
Important
Very Important
Price
2021
8%
16.6%
26.6%
48.8%
2023
2.4%
15.6%
30.4%
51.6%
Name Brands
2021
16.2%
30.2%
26%
27.6%
2023
21.8%
39%
29%
10.2%
Sustainable Shipping & Packaging
2021
12.4%
21.6%
32.6%
33.4%
2023
13.6%
29.6%
33.8%
23%
"Price" was voted the most important factor. It was the sole factor in the survey that over half of the respondents (51.6%) rated as "very important," which increased from 48.8% in 2021. Meanwhile, those rating it as "not important" declined from 8% in 2021 to 2.4% in 2023.
Another indicator that consumers are tightening spending is the importance they placee on buying from name brands. Those rating brand name as "very important" saw a dramatic drop from 27.6% in 2021 to only 10.2% in 2023.
So how is price sensitivity affecting the importance of sustainable practices?
Although consumers placed less emphasis on sustainable shipping and packaging than in 2021, the only major declines were seen in those rating it "very important," which fell from 33.4% to 23%. The decline in those placing some degree of emphasis on sustainability was minor.
In 2021, 87.6% of consumers considered sustainability at least "somewhat important" when buying online.
In 2023, that number has only dipped to 86.4%. Despite the price sensitivity increase, sustainability remains a priority for many.
Saying sustainable practices are highly influential isn't just lip service from consumers. ➡ They're acting on it.
When asked if sustainable shipping practices have influenced past purchase decisions, 69% said yes. This is an increase from 2021, when only 66% of consumers reported sustainable shipping had influenced past purchases.
The data shows that consumers are more concerned about how much they spend online. Although the numbers on price showed significant changes from our initial survey, sustainability's overall importance decreased marginally in comparison.
Green demand remains constant and shouldn't be viewed as a challenge, but as an opportunity.
The opportunity: Consumers eager for sustainable shipping options
Consumers are weighing the environmental impact of their online purchases. Most understand that parcel shipping is part of the greater sustainability "problem," and they want to be part of a solution. But first, how much of a "problem" do they see in shipping?
Starting with what consumers see – the package they receive – 76.6% agreed with the statement, "most companies use excessive packaging when shipping products." Online shoppers are tired of oversized boxes, extra layers of mailer bags, and unnecessary filler material. And the environmental impact of these materials isn't lost on them.
72% believe the amount of packaging materials used in a shipment has a "moderate" or "high" impact on sustainability, and 70.4% believe the type of packaging material used has a "moderate" or "high" impact.
Consumers notice the issue, and addressing it will positively impact your business. Sustainability improvements in shipping can reduce costs, but there will still be initial expenses to operational changes.
The great news? Consumers want to help.
When asked how much they'd be willing to pay for a more sustainable service than standard options:
75.8% said they would pay at least 5% extra on shipping costs.
41% would pay at least 10% more.
Even 10% of consumers would pay 20% or more on shipping for a greener service.
Are you hesitant to implement greener ground shipping options out of concern of slower transit times? Consumers value speedy shipping (with only 3.4% of respondents rating it as "not important"), but they are much more open to slower shipping if they know it's a more sustainable choice.
When asked how many extra days they'd be willing to wait for sustainable shipping:
 79.6% said they'd wait at least one extra day.
45% would wait at least two extra days
15.6% would wait for three or more.
At the very least, consumers want the opportunity to choose a sustainable shipping or packaging service.
Whether they'd select it or not:
1. 88.8% of consumers agreed that companies should offer an "eco-friendly shipping" option at checkout.
2. 62.4% would choose the option at a modest frequency
3. 16.6% would even choose it "often, if not always.
Our report demonstrates that eCommerce businesses wanting to differentiate their brand should focus on a trifecta of price, speed, and sustainability. Committing to green shipping practices can help customers make sustainable choices and build lasting brand loyalty.
5 Ways You Can Differentiate Yourself With Sustainable Shipping
1. Give Consumers The Options They Want: You may already offer standard or expedited shipping. Explaining that the standard ground option is more sustainable is a great way to educate consumers and make them feel good about their decision.
2. Double Down On Your Sustainability Commitment: Show consumers your commitment to meeting their needs by publishing your shipping improvements on your website and working towards a sustainable certification like the SmartWay program.
3. Reduce Your Carbon Footprint With Simple Operational Changes: Optimizing your shipping routes using low-emission ground shipping services can offer the best balance of speed and cost-effectiveness while minimizing your carbon footprint. Identifying the fastest and most environmentally-friendly shipping options can reduce transit times and costs while contributing to a more sustainable shipping process.
4. Improve Customer Experience with Sustainable Packaging: Win customer favor by implementing any of the great advancements made in the sustainable packaging sector. If you're not ready, reduce waste through appropriate package sizing. Using the smallest box size possible will create a better unboxing experience and decrease your dimension-based accessorial fees.
5. Achieve Your Cost and Green Shipping Goals Through Advanced Parcel Tech: With a shipping solution like Sifted Logistics Intelligence, you can harness your shipping data to model these 'what if?' scenarios and know the impact your decisions will have before committing a dime to them:
While price sensitivity is a growing concern for consumers, the importance of sustainability remains strong. At Sifted, we offer solutions that help you tackle both issues simultaneously, reducing your carbon footprint and shipping costs while meeting the demands of eco-conscious consumers. Uncover ways to make improvements to your profits and the planet. Get a free demo with Sifted.